Zomacton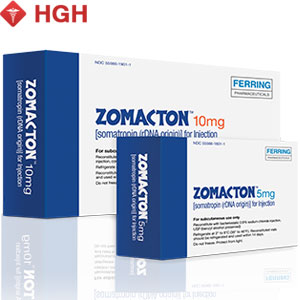 What is Zomacton
Zomacton, or Somatropin, is a bioidentical human growth hormone that is used to treat hormonal imbalance causing Adult Growth Hormone Deficiency (AGHD) in adults. It acts similar to the growth hormone produced in the body and regulates various critical metabolic activities effectively. It is a most widely used synthetic hormone and is a product of a German company named Ferring Pharmaceuticals.

Zomacton Prescribing Information
Zomacton benefits
List of Zomacton benefits:
Increased Muscle Strength
Better Fracture Healing
Enhanced Weight Loss
Stronger Bones
Reduced Cardiovascular Disease Risk
Improvement in Erectile Dysfunction
Decreased Obesity
Better Mood and Cognitive Function
Better Sleep
This medicine requires a doctor's prescription and is available in the form of injections. Patients, suffering from a deficiency of growth hormone, take Zomacton injections under the skin.
Zomacton side effects
Like any other medicine, Zomacton can also have side effects in some people who are allergic to its ingredients.
Apart from these, the following are some of the possible side effects of Zomacton :
Swelling of hands and feet due to fluid retention.
Joint pains
Muscle pains
Headaches
Numbness, tingling, and burning sensation of the skin
Hypothyroidism
Insomnia and sleepiness (somnolence)
High blood pressure
Nausea, abdominal pain, and diarrhea
Problems with vision, double vision, and uncontrollable rapid eye movements
Vertigo
In some rare cases, there are bone pain, personality disorders and an increase in heart-beat rate. If you see any of these side effects or any other abnormal reaction in your body that worries you, consult with your doctor immediately.
Usage and Administration of Zomacton
First and foremost, it is essential to use Zomacton under the supervision of a doctor who has experience in treating Adult Growth Hormone Deficiency (AGHD). Patients take Zomacton as subcutaneous injections.
Patients can take these injections at home after learning the preparation and administration process from their doctors or trained nurses.
Preparation of Zomacton
Zomacton comes in the form of white powder in a vial along with a diluent liquid. It typically is available in two potencies of 5mg and 10mg respectively. The white powder(GH) should be mixed with the diluent fluid, provided with it, to reconstitute the solution for the injection.
Doctors teach the patients the process of preparing the injections and administering them. The instruction manual that comes with Zomacton also has all the instructions for making the medicine.
The prepared medicine can last for 14 days (5g) to 28 days (10mg). It is important to refrigerate both the mixed as well as unopened vials of Zomacton. The reconstituted solution should always be clear. Discard the prepared medicine, if it is not a clear liquid. Do not freeze or heat the prepared Zomacton solution.
Zomacton Administration
Zomacton is injected under the skin using a needle or needle-free device called ZOMA-Jet. The injections are given in different areas of the body every day. Upper arms, upper thighs, upper buttocks, and stomach are some of the places best suited for these injections.
The reconstituted solution for injection should be brought back to room temperature before injecting into the body. The medicine should also be checked for cloudiness each time before use.
Discard the needles after each use. The injections are taken at the same time each day. Evening time is best suited for this injection as the medicine can work best at night. It also mimics the natural secretion of Growth Hormone (GH) in the body, which usually happens at night time.