Answer: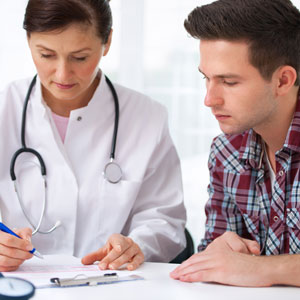 The most important thing that makes IGF-1 and HGH different is the fact that HGH works on everyone and IGF-1 long R3 does not. It was noticed that with one people the IGF-1 works perfectly well and others see no influence at all. However, there are no doubts in the quality of the product used – it is for sure authentic and of the highest purity.
Nevertheless, the ones who are lucky to feel the influence of IGF-1 long R3 tells about fantastic pumps at workouts, sudden increase in powers and noticeable increase in the mass of the muscles. According to this, IGF-1 can be compared to "HGH on steroids" as the results are very alike in both cases, but IGF-1 influences quicker.
HGH possesses some extra advantages (general rejuvenation of the body, the skin becomes smoother, the hair grows quicker, and a lot more) which are absent with IGF-1. That is why HGH is often used for anti-aging purposes. HGH helps to increase the production of your own IGF-1. If you take 4IU a day, you level of IGF-1 might increase up to 300%. As a result, the building of new muscle cells is noticed as well as the increase of powers and larger pumps at workout.
IGF-1 long R3 cannot be used for a long period of time, not longer than 50 days. HGH is applied from 2 months and more, and the noticeable results become evident only after 4-8 weeks of the application.
So which one is better – HGH or IGF-1?
These two factors help to answer the question:
If you need to build muscles quicker, then IGF-1 is certainly better. If you are looking for general rejuvenation of the body and muscle building, you should choose HGH.
Does IGF- 1 have an influence on you or not? If it works on you, then your choice is IGF-1. If your body does not respond to it, then HGH. However, it is not possible to predict whether your body will work with IGF-1 or not until you try it in practice. On the contrary, HGH influences everyone, but the process of muscle mass creation is slower with HGH than IGF-1.