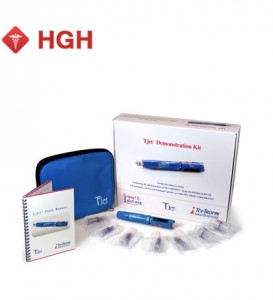 Tev-Tropin is a Somatropin brand. This is HGH produced synthetically. It is prescribed to deal with growth hormone deficiency. Although its compounds are produced manually, Tev-Tropin structure is identical to human hormones created in the pituitary gland. As a result, Tev-Tropin is able to replace natural HGH, administered via injections.
Tev-Tropin is a white, sterile lyophilized powder sold in phials. It is necessary to reconstituted before Tev-Tropin administration. These phials are supplied in 5mg and 10mg dosages. Tev-Tropin 10mg phial has 10 mg of Somatropin and comes with a 0.33% metacresol diluent for storage. Tev-Tropin 5mg phial included 5mg of Somatropin and benzyl alcohol (0.9%) diluent for storage.
The injections are made subcutaneously after reconstitution takes place. The pH of reconstituted solutions is 7.0 to 9.0. A needle-free T-Jet device can help you to administer Tev-Tropin 5mg more easily.
How to use Tev-Tropin
The drug should be administered only by your doctor's guidance. Do not change the dosage or the length of the course without the doctor's recommendations. Consult the directions provided on the prescription label.
Preparation for Tev-Tropin administration
After the reconstitution, it is forbidden to shake the bottle with the drug if you do not want to damage it. The reconstitution of somatropin powder with the diluent should be done with gentle swirling motions. If you have noticed that the color of the drug changed, never use it. If you notice any particles in it, do not administer the drug. It is necessary to apply to your doctor to get a new prescription.
How To Inject Tev-Tropin Into a Muscle
The injections of Somatropin can be made into a muscle or under the skin. It is obligatory that your doctor or nurse demonstrates you the process of injections making. If you have some doubts or misunderstanding as to the process of injections making, never do any injections yourself. Apply to your health care specialist to clarify this and how to dispose of used needles and syringes properly.
It is obligatory to make every new injection into a different place on your body. You should be informed by your health care provider about the best places for injections on your body. The drug should not be injected twice into the same place. If the place of the injection or near it is red, sore, infected, or injured, never make any injections in this part of your body.
If you use a needle-free injection pen T-Jet, the pen used should be only produced by the somatropin brand you use.
Proper dosage for Tev-Tropin injections
Tev-Tropin dosage differs in any individual case. You should apply to your health care provider for the Tev-Tropin dosage info. The information offered here contains only average dosage amounts of the drug. If you consider that your dose should be different according to the info given on the label, it is obligatory to apply to your doctor before making any changes in the dosage.
You dose depends on the strength of the drug. Furthermore, a number of doses you administer per day should be taken into consideration, the same as the time between these doses, As to the length of your course, it also depends on your particular problem for which this drug was prescribed to you.
Tev-Tropin dosage for adults is calculated taking into account the body weight of the patient (Somatropin brand is also considered) and the dosage should be defined by your care provider, who will also adjust your dosage if necessary.
A recommended injection dose of up to 0.1 mg/kg (0.3 IU/kg) of body weight is 3 times a week subcutaneously.
After injection
A disposable needle should be used only once. A puncture-proof container should be used for throwing away the used needles. If you do not have such a container, consult your pharmacist where to get one and how to use it).
Store information
Phials of Tev-Tropin can be stored in a fridge at 36° to 46°F before reconstitution. Pay attention to the expiration provided on the labels. When the drug is reconstituted, the phial can be stored for up to 14 days in the fridge at 36° to 46°F when bacteriostatic 0.9% sodium chloride (normal saline) is used, USP. The reconstituted solution should not be frozen.
After the end of the expiration date, and drug left should be thrown away.
The outdated drug or when you do not need it should not be stored.
Used needles should also be stored in a special hard, closed container that cannot be poked through.